Blue Valley Lutheran Homes | Mentally Disabled Care | Nebraska Nursing Care Homes
Welcome to the Blue Valley Lutheran Homes 
We believe in treating your family like our own. From our beautiful grounds to our caring staff, our facilities are designed to feel like home. We offer all denomination worship services, bible study opportunities, and daily activities that cater to our resident's interests. We provide the best quality care possible thanks to our trained staff and volunteers.

The Care Home is located at:
220 Park Ave.
Hebron, NE 68370
When home care or assisted living is no longer feasible for those with developmental or mental disabilities, families often face the difficult choice of finding a nursing home for their loved one. The good news is that there are some excellent options, right here in Thayer County.
For more than 30 years, Blue Valley Lutheran Care Homes has served the needs of the mentally and developmentally challenged in Thayer County. As the only privately ow
ned facility in Nebraska, the Blue Valley Lutheran Care Home can offer your loved ones a safe, comfortable and positive environment to enjoy. Our award-winning staff and volunteers are committed to help make the lives of our residents fulfilling, meaningful and happy.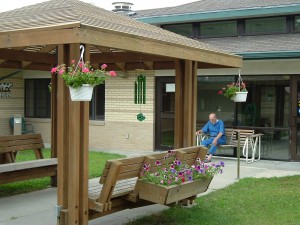 Blue Valley Lutheran Homes has private and semi-private rooms in a secured facility and offers around-the-clock staffing with an LPN and/or RN on all shifts. We offer weekly physician visits on site, as well as local dentistry and optometry services.
For more information about the services offered at Blue Valley Lutheran Care Homes, please click here.
To schedule a tour of Blue Valley Lutheran Care Homes, please call 402-768-3900.