Blue Valley Lutheran Homes
now browsing by category
From all of us at Blue Valley Lutheran Homes, may you have a blessed and wonderful summer!
Welcome to Courtyard Terrace Assisted Living
At Courtyard Terrace, we understand your need for independence and that you want to live somewhere that feels like home, only a little easier. We are committed to providing you with a caring, Christian, home-like environment that will sustain you in body and spirit.

The Courtyard Terrace is located at:
1 Terrace Circle
Hebron, NE 68370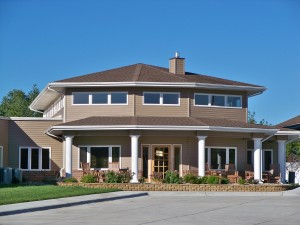 Courtyard Terrace offers upscale assisted living, right here in southern Nebraska. Our facility is located close to home for your loved one who might need assistance with their activities of daily living, but wish to maintain as much of their independence as possible.
Courtyard Terrace offers 40 apartment units in a warm and inviting atmosphere that will allow you to relax and enjoy the comforts of your new home. You will experience a new way of life…a secure, active and independent lifestyle with a unique blend of privacy, friendship and sociability. Whether you enjoy surfing the Internet for news, playing a game of billiards, watching a favorite show on the big screen or offering tender care to our flower gardens, you will be among friends who share common interests and needs.
Our 24-Hour pendant call system allows you to feel comfortable asking for assistance whenever you need it. You value your independence but everyone needs help now and then. Don't spend time worrying! We can offer extra assistance for such things as bathing, dressing, medication administration, and other helpful services! We are always here to meet your needs.
For a complete list of what we offer, see our Services and Amenities pages.
To schedule a tour, please call 402-768-3900 or take a tour online.
Welcome to Blue Valley Nursing Home
We believe in treating your family like our own. From our beautiful grounds to our caring staff, our facilities are designed to feel like home. We offer all denomination worship services, bible study opportunities, and daily activities that cater to our resident's interests. We provide the best quality care possible thanks to our trained staff and volunteers.
The Nursing Home is located at:
220 Park Ave.
Hebron, NE 68370
As an integral member of Thayer County's healthcare system for more than 65 years, Blue Valley Nursing Home strives for positive patient outcomes, with our entire team working together to return each of our patients to their maximum level of functioning. Conveniently located adjacent to Thayer County Health Services, our services are designed for those in need of short-term, long-term and skilled nursing care, as well as Hospice and adult day care services. We also offer rehabilitation services, including speech, physical and occupational therapies. For more information on our nursing care services, please click here.
Blue Valley Nursing Home has 50 private and 7 companion rooms that offer around-the-clock staffing, including an RN and LPN on all shifts. We offer in-house dental, vision and podiatry services, as well as regular weekly visits from local physicians.