The Gardens | Alzheimer's & Dementia Care Nebraska
Welcome to The Gardens at Blue Valley
Alzheimer's & Dementia present unique challenges for the person affected and their family. At The Gardens of Blue Valley Lutheran Homes, we understand the importance that human kindness plays in dealing with the emotions dementia patients experience. We also believe that ensuring the resident's personal dignity is the cornerstone of providing great care.
The Gardens & Care Home are located at:
755 South 3rd St.
Hebron, NE 68370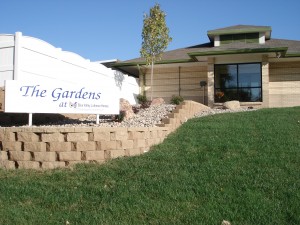 If your loved one is struggling with Alzheimer's or related dementia, the answer is close to home, right here in Nebraska. The services we provide at The Gardens may be of help to you and your loved one. By recognizing each individual's physical, mental and social needs, our goal is to provide an environment where residents maintain an optimal level of self-care and independence for as long as possible.
At The Gardens, we promote a philosophy of care designed to support the highest practicable level of engagement and function for those experiencing Alzheimer's & dementia symptoms. We focus on the resident's remaining abilities, not what they have lost. Staff interacts well with the residents so that they may stay actively involved in daily life by unlocking the remaining cognitive and functional abilities and promoting their use.
To schedule a tour, please call (402) 768-3900.
To see more Alzheimer's & Dementia Care services we offer, click here.